As the messaging application of the world's biggest social network, Facebook Messenger is one of the most dominant communication tools of our time. With our integration, your contacts can reach you from whatever device they run Messenger on. Their messages will pop up in your Message Center so that your operators can deliver the best support.
In order to use Facebook Messenger with Userlike, you need to connect Userlike to your company's Facebook Pages.
Facebook Page creation
If you already have a Facebook Page that you want to connect with Userlike, move on to the channel setup. Otherwise create a new Page
here
.
Channel setup
For each FB Page that you want to connect with Userlike, you have to create a Facebook channel.
Click here
to add a new Facebook channel.
Channel name: Name of your Facebook channel, not displayed to contacts.
Page name or username: Enter the name of the Facebook Page that you want to connect. If you have multiple Pages with the same name, use their unique usernames instead (displayed under Account | Settings and privacy | Settings | your account name | Username). In both cases, the Page name is the name that contacts see in Facebook Messenger and by which they can search for your business there.
Widget: Widget that will handle chats sent to your FB Page. The Widget's settings apply to assign the right operator, display the correct language and use the right privacy settings.
Click-to-chat-URL: You can display a "Click-to-chat" button on the messenger board of any widget, allowing your contacts to directly switch from the website chat to this Facebook channel. This URL is used as the link destination. Enable this feature in the settings of a widget under "Channels displayed on the messenger board".
Fill out the form and click Create channel, then click Log in with Facebook in the pop-up and finally, select your Facebook Page to grant Userlike access to it on Facebook. You need to be admin of the Page to grant the authorization. Also, make sure to grant access to everything Facebook demands in this step.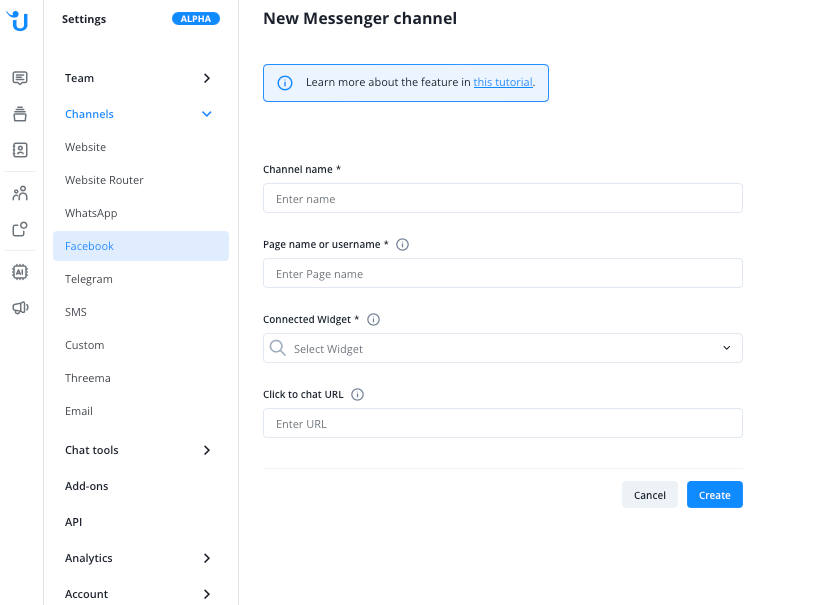 Conversations from Messenger
Now, operators connected to your Facebook channel's Widget will receive messages in the Message Center from anyone contacting you via Facebook Messenger.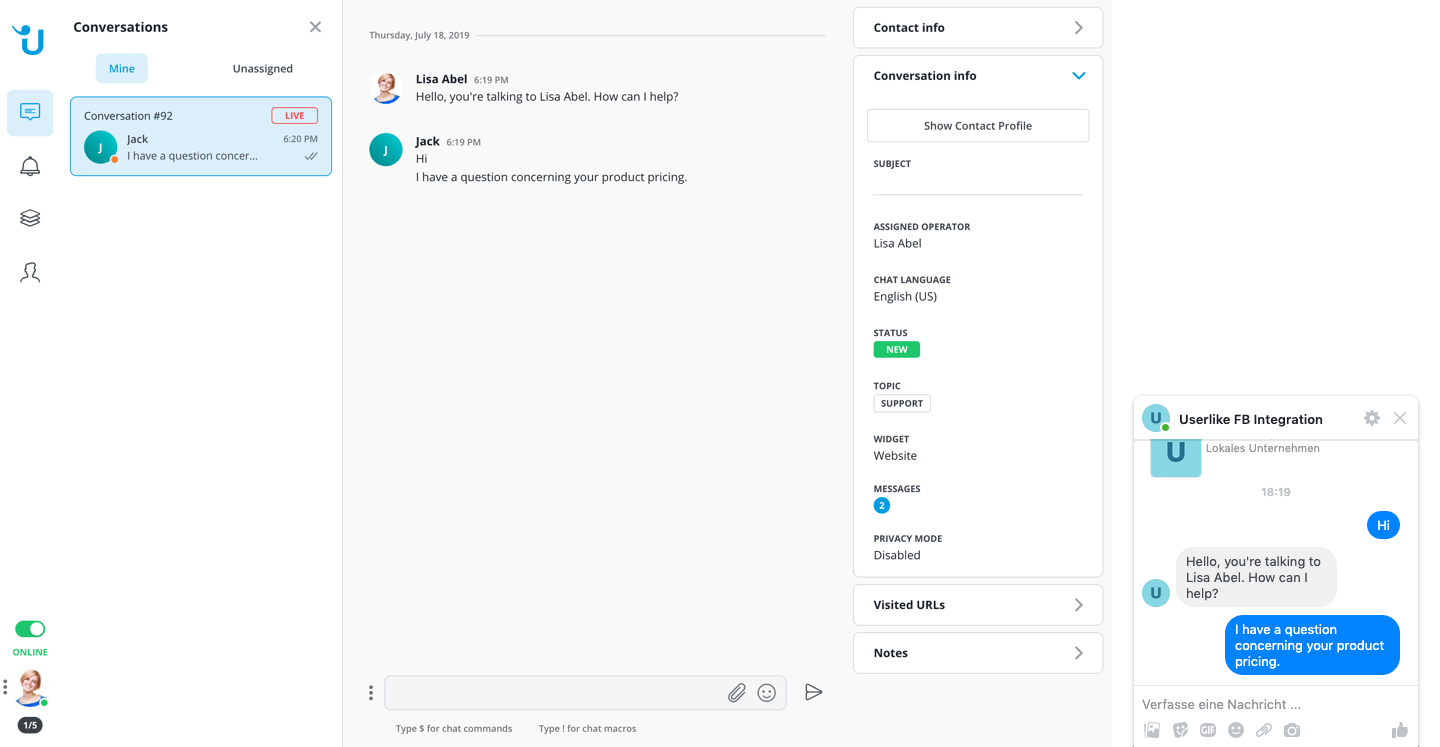 Communicate your Facebook Page's name to your customers, they can find it via contact search in their Facebook Messenger app.